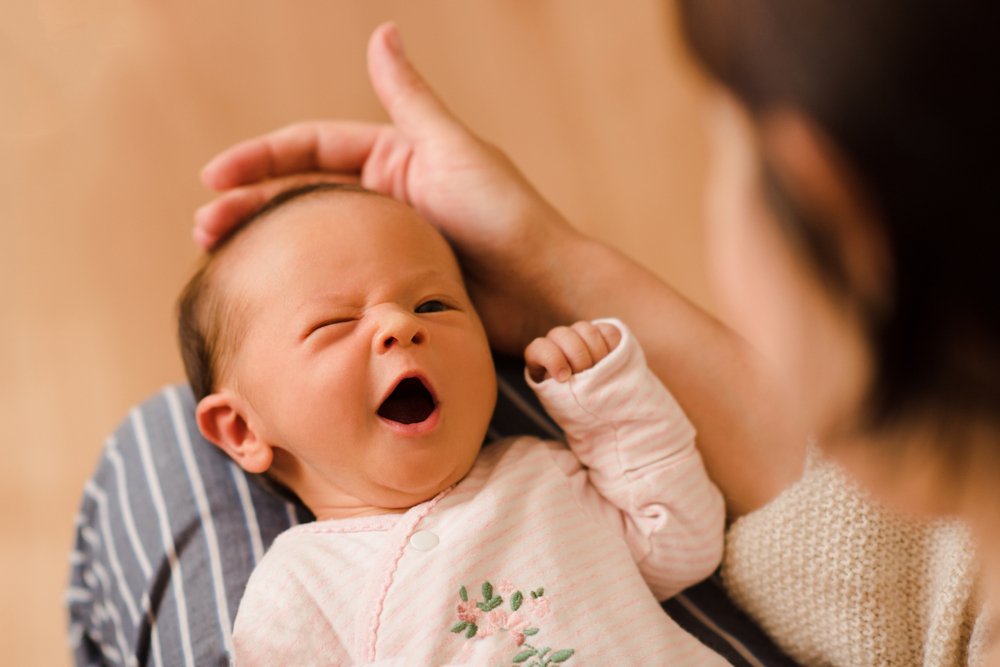 Introducing a little one into the world is an exciting and life-changing experience. However, raising a newborn baby can be overwhelming - especially for first-time parents. At Capital Area Pediatrics, our newborn care specialists understand how difficult it can be. That's why we've listed seven tips for newborn parents to help ease some of the pressure and set you up for success as you welcome your newborn into the world.
1. Establish a Routine Early On

Starting a routine as early as possible will help your newborn baby adjust to their new environment and understand what's expected of them. Keeping consistent with feeding, napping, and bedtime will help set a routine for the rest of their life. New parents might try writing down daily activities and playtime to make sure they stay on schedule.

2. Track Feedings

Whether your new baby is breastfed or formula-fed, keeping track of your baby's feedings is an important part of newborn care. Tracking feedings can help ensure they're getting enough breast milk or formula throughout the day. You can use the diary app on your phone or write it out in a notebook each night to know how much milk was consumed in 24 hours. For formula feeding, it is

recommended

to keep track of the ounces your baby drinks, and if you're breastfeeding, try using an app or notebook to note how long and how often your baby nurses.

3. Be Gentle

A baby requires gentle handling due to their delicate body and sensitive skin. When handling your newborn, be sure to keep your movements slow and steady, as sudden changes in motion can be disorienting or upsetting to them. During sponge baths, be sure to use warm water and mild soap, and make sure your baby's head is supported at all times. When cleaning a bowel movement, gently wipe from the front to back; this prevents bacteria from entering your baby's urinary tract. Finally, make sure your newborn baby sleeps on their back to

 reduce the risk

of

Sudden Infant Death Syndrome (SIDS)

. You can swaddle them in a blanket to ensure they stay on their backs the whole night.

4. Get Some Sleep

As any new parent knows, lack of sleep is inevitable during those first few weeks or months at home with most newborns. However, it's important to prioritize sleep when possible so you can have the energy needed to care for your newborn baby properly. Try taking turns with your partner to increase your sleep time, or enlist the help of family and friends. If the baby is room-sharing with you, set up a separate sleeping area, like a bassinet or bedside sleeper, to help the baby get used to their sleeping environment and avoid having them in the same bed as you.

5. Become Aware of Common Ailments

During those early weeks of parenting a newborn, it is important to be aware of common ailments that affect newborn babies. For instance, many newborns may experience minor ailments such as diaper rash or colic. While it can seem overwhelming, most of these ailments will typically disappear with time and age. Becoming familiar with the information early on will help you keep an eye out for any symptoms or changes in your infant's behavior.

Additionally, you should stay up to date on Sudden Infant Death Syndrome (SIDS) and always put your baby to sleep on its back in an approved crib, since putting the baby to sleep on its stomach increases the risk of SIDS. Lastly, make sure you talk to a medical professional if you have any concerns about your baby's health.

6. Make Time For Yourself

Taking time each day to do something that brings you joy is essential to staying healthy while raising a small child. The more you take care of yourself, the better you can care for your baby. Whether it's reading a book or taking a hot bath after the kids are asleep, make time for yourself whenever possible.

7. Visit Your Pediatrician Regularly

Taking care of a newborn can be daunting for new parents, but routine visits to the pediatrician can help put their minds at ease. Regular check-ups are essential for monitoring your baby's progress and any possible health issues that could arise, as early detection is key for getting the best care. During these visits, your pediatrician can give valuable advice on feeding methods, sleep routine, and developmental milestones as your newborn grows.

Not only do routine visits to the doctor keep your baby healthy and safe, but they also provide reassurance for you as a parent during this time of uncertainty and change. In fact, Capital Area Pediatrics is hosting a Breastfeeding 101 class for expecting parents on April 12. Our lactation team will help you learn everything you need to know to prepare for breastfeeding your child. Register now or visit our website for more information!

At Capital Area Pediatrics, we strive to provide the highest quality of care for your newborn baby. Whether you're a new mom in need of a lactation consultant, or your newborn needs routine care, our office is here to help.

When you come in with your newborn, you can expect comprehensive exams, measurements, developmental checks, behavioral assessments, and more. Contact us today to schedule an appointment with our newborn care specialists. We look forward to helping you and your newborn through this exciting time.
If your child needs pediatric care, Capital Area Pediatrics offers top-tier pediatric care to families at five surrounding locations throughout Northern Virginia. Our dedicated team is committed to providing everything from newborn care to mental health services for your child. All of our providers are accepting new patients and would be happy to reconnect with our existing families.  Request an appointment online, or find a location near you today.