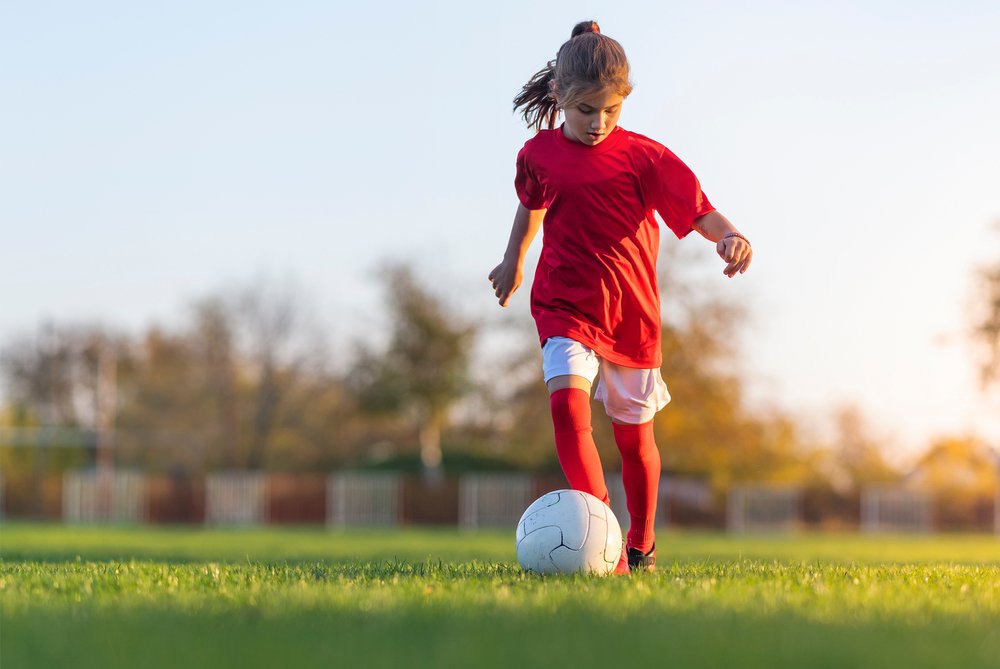 A new sports season is always an exciting time for young athletes, their coaches, and their parents. But before the season can begin, it's important to ensure your child is healthy and ready for the demands of their chosen sport, and that starts with a sports physical. Sports physicals serve as an important tool to help recognize conditions that may cause sports-related injuries or impede performance, and they are an important part of any athlete's health care, regardless of age.
At Capital Area Pediatrics, we know that you want your child to succeed in their chosen sport, and we're here to help! In this blog post, we'll dive into what sports physicals are, why they are so important for youth athletes, and how being proactive and scheduling your child's sports physical ahead of time will set them up for success.
What is a Sports Physical Exam?
A sports physical exam is a comprehensive physical examination conducted by a licensed doctor of medicine. In other words, it's a special kind of exam that can be completed by your child's regular pediatrician. In fact, by scheduling with your regular pediatrician, you will be able to ensure that they already have and are familiar with your child's medical background, including their immunization records and other relevant information.
A sports physical includes a review of your child's medical history, including past injuries or illnesses, current medications, allergies, and family history. Their pediatrician will also evaluate your child's overall physical fitness, like their heart rate, blood pressure, balance, coordination, strength, and flexibility. This gives your pediatrician an opportunity to spot any potential warning signs that might impede their sports performance or put them at greater risk for a sports-related injury, like asthma, heart-related issues, or certain musculoskeletal conditions.
Why Does My Child Need One?
Many schools in Virginia, as well as the Virginia High School League (VHSL), mandate sports physicals before a young athlete can participate in organized sports. The American Academy of Pediatrics recommends that all children between ages 5 and 18 have a physical exam once a year. A sports physical does not replace a standard wellness exam. That being said, we can clear your child for sports at their annual physical unless your sports league requires specific timing of the clearance and form completion prior to the start of that specific sports season. Typically, VHSL requires your child's sports physical to be after May 1 for the upcoming school sports season.
Even if your child's team or school doesn't require a sports physical, we still recommend that you consider having another sports physical done for the sake of their overall health and safety, especially if there have been new health issues or injuries since their last visit. These physicals are essential in helping to ensure your child is healthy and ready for the demands of their sport, and preventing sports injuries is always better than having to treat them after the fact.
What Else Can I Do To Keep My Young Athlete Safe?
Though a sports physical can help protect your child from serious injuries, it can't eliminate the risk entirely. Fortunately, there are other measures you and your child can take to prevent sports injuries throughout the season, including:
Warming up: Before they practice or compete in their sport, have your child warm up and stretch for at least 10 minutes. This helps to prepare their body for physical activity and reduce their risk of injury.
Resting: Sprains, strains, and stress fractures are all common injuries caused by overuse, but they can be prevented by allowing your child ample time to rest and recover between games, practices, and general physical activity. If your child is particularly competitive, these breaks can also serve as a way to help your child manage sports-related stress or anxiety.
Using proper equipment: Many youth sports injuries can be avoided with proper protective gear, like helmets, pads, and mouth guards. Ensure your child has the correct protective equipment for their sport and knows how to wear and care for it properly.
Staying hydrated: Proper hydration is key to both athletic performance and overall health. Make sure your child drinks plenty of water throughout the day, even when they're not playing sports, and that they have access to plenty of fluids during practices and games.
Eating well: Maintaining a healthy diet full of fruits, vegetables, proteins, and whole grains will help ensure your child has the nutrition their body needs to stay healthy and strong. By encouraging them to make smart food choices, you can help your child build and maintain the physical strength they need to excel in their sport.

If your child does get hurt while playing this season, we'll be here to help. Our team of pediatric experts knows how important ongoing care is after a sports injury, so we'll work with you to create a personalized treatment plan designed to help your child both at home and in the classroom.
Why Should I Schedule Early?
Scheduling your child's sports physical early can help ensure a smooth and stress-free experience in a number of ways! First and foremost, by scheduling an appointment sooner rather than later, you have a better chance of securing an appointment with your chosen pediatrician. As previously discussed, we recommended that you meet with your child's regular pediatrician when possible, as it can make for a quicker visit with someone who is already familiar with your child's health.
Second, early scheduling can help mitigate the effects of any last-minute scheduling conflicts as the season draws nearer. For example, if your child gets sick and you need to reschedule, rather than missing the first few practices or games, you will have a better chance of getting an appointment before the season starts.
Third, if any issue or concern does come up during your child's examination, an earlier appointment gives you more time to address those issues before the start of your child's sports season. For instance, if your pediatrician suspects that your child may have asthma or another respiratory condition, you'll have time to work up a plan for managing their symptoms. Or, if additional testing is needed, you have a better chance of completing those tests before the season begins.
Lastly, knowing that your child has been cleared by their doctor to participate can help you and your young athlete rest easy during the season. With an early sports physical at Capital Area Pediatrics, you and your child can both feel confident as you head into the new season.
Our Capital Area Pediatrics team is proud to help keep the children in our community healthy and safe, no matter the season. From sports physicals to well-child care to sick visits, we'll be here for your child all year long. Request an appointment online, or find a location near you today.