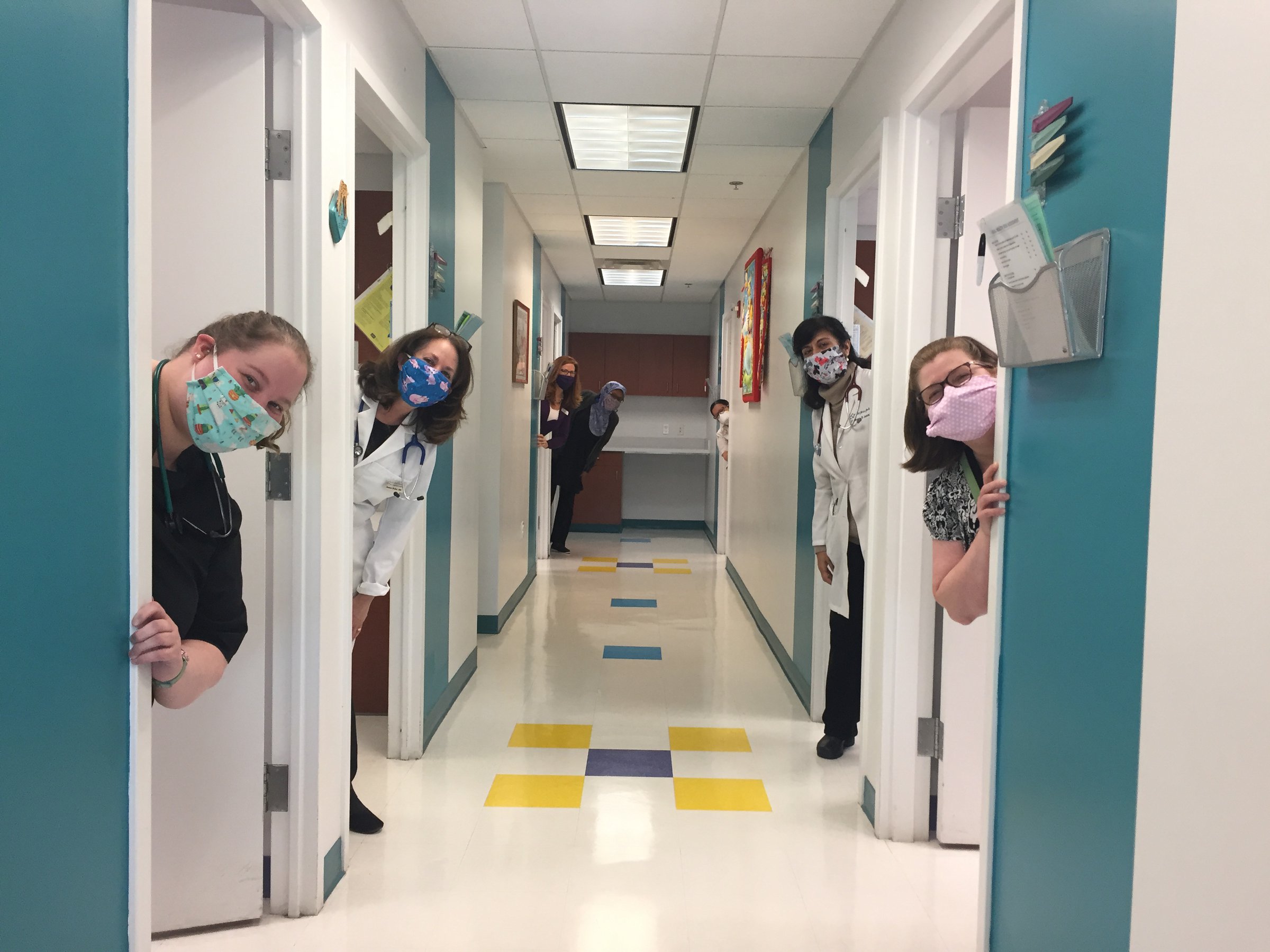 For all of us, the pandemic has been an unprecedented time of change and uncertainty.  Our families, our jobs, and our livelihoods have been upset and tumultuous.  As we are hopeful that the pandemic is slowly coming to an end, we want to let you know that Capital Area Pediatrics is here to continue providing excellent, personal care for every child.
Like you, we have had to tolerate and institute change in our lives. As you may know, healthcare has been pushed and tested during the pandemic. While it has been challenging for all of us at Capital Area Pediatrics, we are grateful that so many have stuck with us and helped us through these changes.  We would like to thank all of our clinical and administrative staff for troubleshooting and persevering with wisdom and grace. We would like to thank all of our families for your patience as we continue to evolve.
We understand many of you are frustrated by our phone wait time.  The combination of an unexpected sick season, COVID exposures, back to school physicals, and a rush on forms is truly unexpected for outpatient pediatrics.  In addition, like many other businesses, healthcare felt the effects of COVID on our workplace and staff.  Please see a recent piece aired on local news about this unprecedented influx of medical need in outpatient pediatrics here(opens in a new tab).
We are working hard to build back up our staff - from the phones, to the front desk, to the floor nurses!  All the providers at Capital Area Pediatrics are committed to providing your child and family excellent, personal care - but we cannot do it without all of our support staff. 
Capital Area Pediatrics has been your neighborhood pediatrician for decades.  We hope to continue offering excellent, personal care that meets the ever-changing and evolving healthcare needs in our community.  We are doing our best every day to accommodate all of our families with urgent needs.  Hang in there with us!
We would like to take this time to inform you of some old and new updates to our practice:
For all urgent medical concerns, we recommend you schedule an appointment, either in person or via telemedicine.  Our providers can give your child the best care and treatment by seeing them! 
Non-urgent questions or follow ups to recent visits can be sent via messages through our portal. Please be advised that

portal 

messages can take up to 48 hours for a response.  We do NOT recommend using the portal for urgent medical advice.
We continue to offer telemedicine visits!  While we are really excited to see your children in the office, especially when a physical exam could help us diagnose your child,

telemedicine

is a convenient way for your child to be assessed. Telemedicine works well for many issues, especially mental health and behavioral concerns, follow ups to chronic conditions, and medication checks.
We offer testing! When your child is sick, we are able to offer rapid antigen COVID testing that will result the same day. As always, we also offer rapid strep, rapid influenza, and rapid RSV that can also result the same day. Our providers are well-versed in deciding appropriate testing and hope to get them back to school or daycare as soon as they are feeling well!
The COVID-19 vaccine is now available to existing patients 12+. You can scheduleyour vaccination appointment online. At this time, we are not administering vaccines during routine well visits due to predictability of using all doses in a vial within a certain timeframe.
We now offer self-scheduling for well visit appointments for existing patients! We plan to add additional visit types to further provide you with scheduling convenience and improved access to our providers.
Flu vaccine is available! We are adding flu clinics every day to protect you and your family.  Existing CAP patients can self-schedule online

here

at a location and time convenient for you.
We continue to offer Touchless Check-In, avoiding crowds in the waiting room and letting you wait in the comfort of your vehicle!

Touchless Check-In

also gives you the convenience of completing visit paperwork and screenings in advance of your appointment, and allows our providers to best prepare for your time together.
We are still requiring those over age 2 years to wear a mask and request one adult per child for all visits over age 2 months. Because we are a health care setting and the majority of our patients are not vaccinated, this is to help reduce the risk of transmission of COVID and other viral illnesses that are circulating in the community.