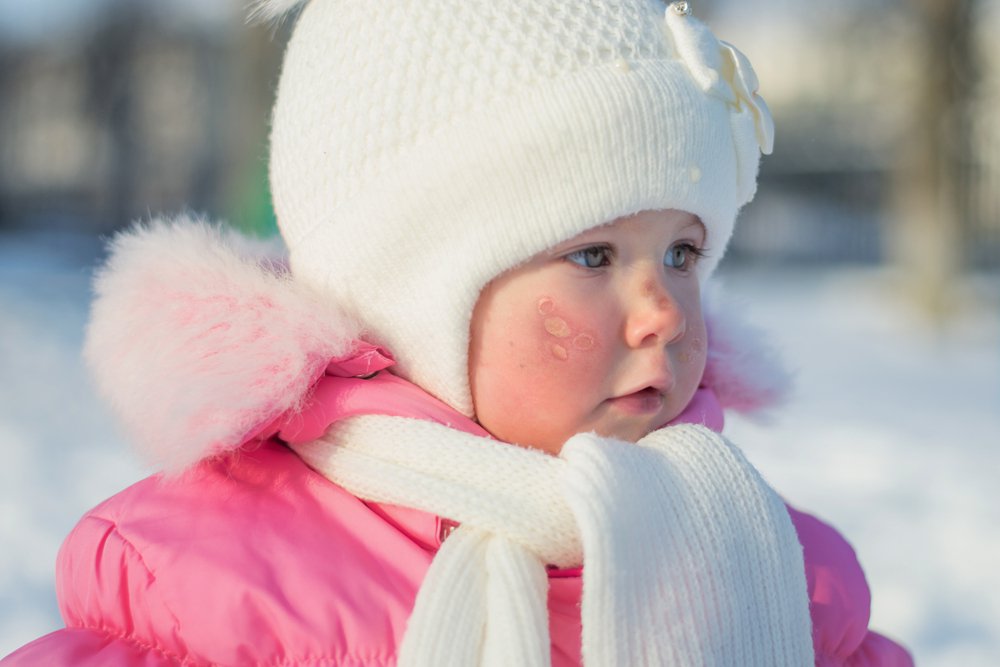 If your child has eczema, you know the approaching winter months will come with added challenges. The cold weather can take moisture from the skin and increase irritation, causing red, crusty, dry patches of skin. Children with the condition usually have the hardest time in the colder months, making the chilly season a cause for concern for parents.
What is Eczema?
Eczema is a hereditary, chronic skin condition, often seen in infants and very young children. Children who suffer from eczema often experience severe dry, rashy, and itchy skin. This condition affects about 17 percent(opens in a new tab) of children, often developing in infancy and before the age of five.
Children with eczema often have a problem with their skin barrier, known as the stratum corneum, which makes skin more sensitive. This barrier is important because it protects your child's skin from everything: bacteria, irritants, the sun, chemicals, and more. When this barrier doesn't function normally, your child's skin is less able to retain water to stay hydrated and is more likely to become irritated or infected.
What Are The Symptoms of Eczema?
Children with eczema may develop symptoms (opens in a new tab)such as red, dry, itchy patches on the skin that result from inflammation. You may find your child severely or constantly itching. When they scratch frequently, the skin may develop blisters, crusting, oozing, or sores from the infection. Sometimes, if the child has been scratching for weeks or months, the skin may become tough, leathery, and darker in color. In infants, eczema often affects the face, scalp, arms, and legs. Some children with severe eczema may experience these symptoms on their entire bodies.
How Can I Manage My Child's Eczema This Winter?
Winter's cold outdoor temperatures and subsequent indoor heat can be hard on a child's skin, making it feel dry, irritated, and scratchy. This makes the season especially hard for those with eczema. There are a few things you can do to manage your child's eczema during the winter, such as:
You must be conscious of what you are washing your child's skin with. Some soaps are too harsh and can strip your child's skin barrier. The "squeaky-clean" feeling may be a sign that you aren't using a gentle enough cleanser. To keep your child's moisture locked in, try:
Limit Bath Time

Daily baths or showers aren't necessary for children ages 6 through 11. Experts have stated that excessive bathing can lead to water loss from the skin, worsening the dryness associated with eczema. To prevent further dryness, try:

Bathing your child only as needed for hygiene.
Keep bath time to about 10 minutes.
Keep bathwater warm - hot water is drying and aggravating to eczema.
Pat skin dry with a towel, do not rub, as it will further compromise the skin barrier.

Even though it's cold outside, a warm, short bath or shower will be just fine to soothe your child after a day in the cold without further irritating their skin.

Beware of Soap

You must be conscious of what you are washing your child's skin with. Some soaps are too harsh and can strip your child's skin barrier. The "squeaky-clean" feeling may be a sign that you aren't using a gentle enough cleanser. To keep your child's moisture locked in, try:

Using a soap-free cleanser, as they are less likely to strip the skin of its natural oils.
Using products with the

National Eczema Association Seal of Acceptance

(opens in a new tab)

on their labels to be sure you are using the right products.
Skipping sudsy bubble baths, as the detergents in them can irritate the skin.
Not using deodorizing soap, as scents can irritate sensitive skin.

When you have a child with eczema, you have to be careful about what you use on their skin. As long as you use the right products, your child can be cleansed comfortably.

Moisturize

During the colder months, you will want to try especially hard to keep your child's skin moisturized to avoid dry skin. Moisturizers are imperative to combating dryness. To keep your child's skin moisturized, here are some tips:

Use a moisturizer on your child liberally at least twice a day.
Moisturize your child from head to toe within three minutes of bathing, while the skin is still damp, to lock in moisture.
Use scent-free and allergen-free moisturizing products.

Moisturizing your child's skin is a must, especially when they suffer from eczema, as keeping skin moisturized can combat dryness and further irritation.

Handle Clothes With Care

You may not think to worry about the clothes you are putting on your child, but clothing can also contribute to skin irritation. The clothes they wear and how they are washed can have an impact on their condition. Here are some tips to care for your child's clothes:

Be careful about how you bundle your child up for the cold. You should avoid overdressing them in heavy clothing, and instead opt for layering breathable clothes that they can remove as necessary to avoid excessive sweating.
Always wash new clothes before wear, as finishing chemicals, dyes, and flame retardants can trigger sensitivity or allergic reactions.
Try using 100% cotton or silk clothing, gloves, and hats as opposed to wool or polyester which can be itchy or cause sweating.
Don't use any fragranced detergents, fabric softeners, or dryer sheets when washing and drying their clothes.

Being careful about the clothes you put on your child and how to wash them can save your child from added skin irritation.

Talk to your Ryan Park Pediatrician

If you think your child may have eczema, you should reach out to your pediatrician in Ashburn, VA or at another Capital Area Pediatrics location. Capital Area Pediatrics offers a wide variety of specialty care services for chronic conditions, such as eczema. Your pediatrician will discuss with you how to manage your child's condition and prevent flare-ups. During this appointment, your pediatrician will conduct an examination, review your child's medical history, and confirm an eczema diagnosis. Your child's doctor will then identify possible triggers and prescribe an appropriate treatment.
The winter can be a difficult time for children with eczema, but with proper care and consideration, they can enjoy the snowy season and avoid skin irritation. If you need guidance in caring for your child's eczema this winter, schedule an appointment with Capital Area Pediatrics in Ashburn, Herndon, and across Northern Virginia today.
If your child needs pediatric care, Capital Area Pediatrics offers top-tier pediatric care to families throughout Northern Virginia. Our dedicated team is committed to providing everything from specialty & chronic care services to sick visits. All of our providers, including those at our Ryan Park / Ashburn and Herndon locations, are accepting new patients and would be happy to reconnect with our existing families. Request an appointment online, or find a location near you today.