Skip Main Content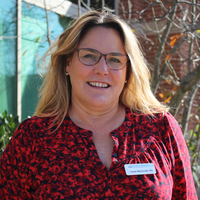 Sarah McDonald, RN, MS, IBCLC
ROLE:
Certified Lactation Consultant - Ashburn & Herndon
SPECIALTIES:
LANGUAGES:
WE CARE ABOUT YOUR FEEDBACK!
Please take a moment and let us know how your experience was.
REVIEW US
Meet Sarah McDonald, RN, MS, IBCLC
Sarah is a Registered Nurse and International Board Certified Lactation Consultant who joined Capital Area Pediatrics in November 2020.
Sarah is a native of the Washington, DC area. She has over 20 years of experience in maternal and child nursing, including 6 years as a practicing Nurse Midwife. Despite having over 10 years in the field of nursing at the time of her son's birth, Sarah struggled with breastfeeding her son, but worked closely with a lactation consultant. Determined and always eager to learn, Sarah began studying about lactation while she was home raising her son. When it was time to return to the job force, she chose to start a career helping new mothers with breastfeeding instead of recertifying as a Nurse-Midwife.
Sarah feels honored to be able to help new parents and babies as they figure out how to reach their personal goals. She believes each baby is unique and amazing and loves to teach parents to see their baby's cues. Whether it is baby number 1 or number 5, there is always something new.
Outside of work, Sarah enjoys being outside – taking long walks with her dog, sailing trips with her husband, or working in the garden. And she is amazed that her once-preemie-son, who struggled to eat, grew up to be over 6 feet tall.
Education
Georgetown University

John Hopkins University

Duke University

University of Maryland College Park

BA,

Government & Politics
Board Certifications
Lactation Consultant

International Board Certified Lactation Consultant

Lactation Consultant Examiners

International Board of Lactation Consultant Examiners
Professional Affiliations
Member

International Lactation Consultant Association
Thank you for subscribing!
You will receive important news and updates from our practice directly to your inbox.
Thanks!